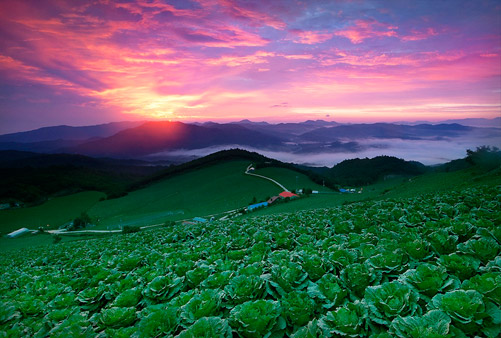 Gangneung is located on the eastern side of the Baekdudaegan, which runs from north to south, and is 6 km away from the east coast; and the city has a maritime climate.
Due to these geographical characteristics, the Yeongdong region of Gangwon is warmer in winter and relatively cooler in summer than other regions on the same latitude. This also makes temperature fluctuations smaller than in other areas. In addition, if the northeast air current has a long-term effect, heavy snowfall occurs in winter and continuous rainfall and low temperatures in summer occur. Strong winds are often observed in winter and spring due to the influence of the Baekdudaegan Mountain Range, and in some cases, large forest fires occur in dry spring.
Climate of Gangneung
The average annual temperature is 13.5°C, and the annual temperature difference is 24.1°C.
The average maximum temperature in August, the hottest month, is 28.6°C, and the average minimum temperature in January, the coldest month, is -2.7°C.
The average annual precipitation is 1444.9mm and the summer (June to August) precipitation is 661.6mm, which is 46% of the annual precipitation.