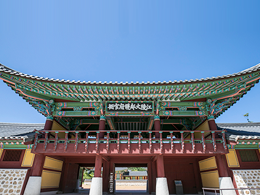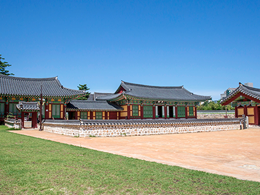 Address : 6, Imyeong-ro 131beon-gil, Gangneung-si, Gangwon-do
Phone : (Gangneung Cultural art division) +82-33-640-5119
Designation number : Historical site no. 388
Designated date : July 11, 1994
Period : Goryeo dynasty
Owner/manager : Gangneung city government (Cultural art division)
Scale/amount : 18,951m2 (original -8,423m2)
Introduction
Gwana is the governing office of local administrative institution in Joseon. There are Dongheon, the main office of Sooryeong, Gaeksa containing ancestral tablet of the king, Hyeongcheong, Jilcheong, Gwannocheong, Gungicheong and other local administrative organizations.
To establish central government oriented control system and control center and local government unitarily, the nation was classified as 8 "do"s, Bu, Mok, Gun and Hyeon and dispatched local governors. The administrative control of central government reached to the smallest administrative district, myeon and ri.
After Gangneung was promoted to Daedohobu in the first year of King Gongyang of Goryeo(1389), the status maintained until the late Joseon, and it was abolished along with the reorganization of the local system in the Gabo Reform in 1894.
The status of Daedohobu is at the middle of Bu which the government dispatch Bu Yoon, and Dohobu which the government dispatch Dohobusa. Daedohobusa was appointed as the third grade of official.
GangneungDaedohobuGwana was first found during 1993 old Gangneung police office excavation and designated as no.388 historical site <GangneungImyeonggwan site>. Gwana related properties were verified in old city hall site in 2005 and designated as historical site additionally.
With the restoration program since last 2000, the JeondaecheongmJoongdaechoneg and left and right Iksa were restored in 2006. The restoration of frontal Gaeksa, Dongheonyeongyeok was finished in 2012 after concluding the restoration of Amun, Dongheon, Byeoldang and Uiwoonru.
GangreungDaedohobuGwana is a precious material for studying Gwana building of Goryeo in old Gangneung along with national treasure no.51 GangneungImyeonggwanSammun and Chilsadang building.