Ojukheon Municipal Museum
Address :24-13, Yulgok-ro 3139beon-gil, Gangneung, Gangwon-do
Phone :(Ojukheon·Museum) 033-640-4457~4460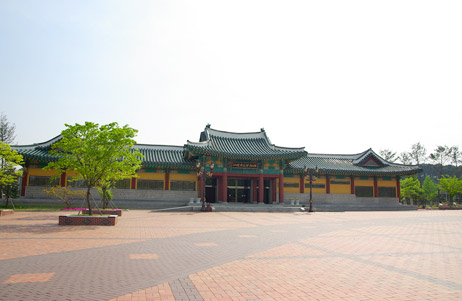 Introduction
GangneungOjukheon Municipal Museum is composed of Ojukheon and the museum.
Ojukheon is the building from early Joseon dynasty, which has unique Iick construction style as a house which has significant value in architecture. Also, Yulgok Yi I was born in Mongryongsil room and this room became more historic place. There are Moonseongsa, Sarangchae, Eojegak and Yulgok memorial hall along with Ojukheon.
The municipal museum archives, studies and exhibits data and artifacts on the Yeongdong region, and was established to success traditional culture and to contribute to social education and emotional improvement of the people. There is a folklore museum exhibiting livelihood goods of Yeongdong region, a history and culture museum exhibiting artifacts excavated in Gangneung, and outdoor exhibition hall which restored stone sculptures and tomb of Yeongdong region.
Admission fee
Entrance hours : 08:00~17:30 (Summer), 08:00~17:00 (Winter)
Operating hours : 08:00~18:00 (Summer), 08:00~17:30 (Winter)
Closed: New Year's day, Lunar New Year's day, Chuseok (Ojukheon Moonseongsa Temple is open all year round)
Free parking

Entrance fee - Note, Adult, Youth, Child, over 65

| Note | Adult | Youth | Child | Over 65 |
| --- | --- | --- | --- | --- |
| Individual | 3,000 won | 2,000 won | 1,000 won | Free |
| Group | 2,000 won | 1,500 won | 500 won | Free |

50% discount for Gangneung citizens on weekdays or on Saturday. Free entry on Sunday. (ID card required)
Free entrance for groups of 10 or larger staying overnight in Gangneung (Credit card receipt or a letter certifying the overnight stay must be acquired from the accommodation establishment) - School groups (those on school trips etc) are not eligible.
Free entrance for groups of 30 or larger purchasing at a traditional market in Gangneung ( Credit card receipt must be presented to verify this), only in cases where the total monetary amount spent exceeds 300,000 won - School group (those on school field trips etc.)are not eligible.