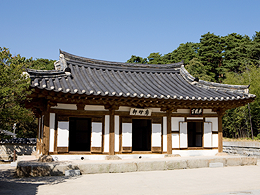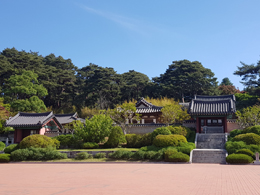 Address : 24, 3139 beon-gil, Yulgok-ro, Gangneung, Gangwon-do
Phone : +82-33-660-3327
Designation number : Treasure No. 165
Date of Designation : Jan. 21, 1963.
Period : Early Joseon Period
Owner/Administrator : State ownership/Gangneung Municipal Government (Ojukheon House/Municipal Museum)
Dimensions : 3 Kans(Korean old unit of measurement) in front, 2 Kans on side, 4 Kans for the main floor hall, 2 Kans each for a room and a floor
Introduction
Ojukheon House was the house of Sujae Choi Eung-hyeon. His second son-in-law Lee Sa-on iherited the hosue and then it passed to Lee of Yongin, the daughter of Lee Sa-on.
Lee of Yongin had five daughters. She gave a tile-roofed house in Sujinbang, Seoul, fields, and paddies to her daughter's son, Lee Yi, on the condition that he held ancestral rites for her ancestors. She gave Ojukheon House, the tile-roofed house, fields, and paddies to Gwon Cheo-hyeon on the condition that he takes care of the family tombs.
After receiving the house from his grandmother on his mother's side, Gwon Cheo-gyun took Ojukheon as his pen name, watching the exuberant black bamboo around the house. His pen name became the name of this house later.
Ojukheon is a separate private house from the early Joseon period. It is comprised of 3 Kans in front, 2 Kans on side, 4 Kans for the main floor, and 2 Kans for a room with a floor. The main floor hall has a checkered floor and Gomi ceiling. Three sides of the floor hall are surrounded by traditional Korean paper windows.
The house has and Iikkong style and a columner bracket set. It shows the transition from houses with columner bracket sets to Ikkong style houses. Besides the structural value, maintaining the perfect appearance, enabling the investigation of houses from the early Joseon period, Ojukheon House has more historic value because Yulgok Lee Yi was born in Monryong Room in this house.