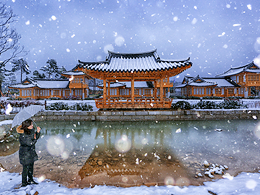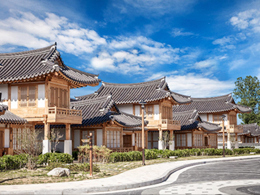 Address : 114, Jukheon-gil, Gangneung-si, Gangwon-do
Phone : +82-33-655-1117~8
Lodging Capacity : 51 guest rooms, occupancy of up to 240 guests
Website : https://ojuk.gtdc.or.kr
Experience Program

Peak season program (Hanok-cance) : Sweet flag shampoo making, bamboo squirt gun shooting
Regular program : Calligraphy, traditional games, traditional crafts experience
Introduction
Hanok is built on contemplating the nature, not an artificial form and harmonizing with surrounding ambient factors. It is in harmony with surrounding ambient elements and using local materials used to make into a form that is consistent with a local terrain.
The line of a straw-roofed house resembles the shape of the mountain behind, while the line of roof tiles expresses that of a straw rope drooping with the rope grabbed on both ends. Eaves has four corners raised above a vertical plane on elevation and the four corners protruding with inside curved concavely on a plane, while the middle part of a ridge droops to take a natural form, all of which helps embrace flexibility. Gangneung Ojuk Hanok Village makes the best use of Hanok's characteristics, creating a space of spontaneity and friendliness. Despite no skillfully decorated splendor, the village takes the advantage of natural materials to express simpleness and pureness. Only by watching the bamboo trees planted all over the village, who all will find their body and mind calm and stabilized.
In addition, the village connects Ojukheon, the well-known birth house of a Joseon's representative scholar Yulgok Yi I, and Gangneung Hanok Village to operate a character training center that helps disseminate the philosophy of Yi I. A range of traditional culture experience programs are in place to raise awareness for the superiority and traditionality of Hanok. It is a representative cultural space of Gangneung that preserves wisdom of the ancestors for life and connects the past and the modern times.