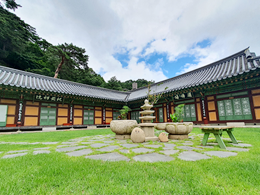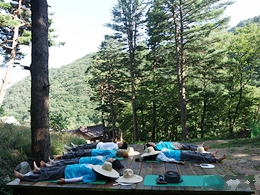 Address : 396, Bohyeon-gil, Seongsan-myeon, Gangneung-si, Gangwon-do
Phone : +82-33-647-9455
Lodging Capacity : Four 2-guest rooms
Website : http://www.bohyunsa.or.kr
Introduction
Hue & Hue (rest & rest in English) Bohyeonsa Temple Stay offers an opportunity to rest, empty, and unburden at the temple house filled with sunrise in the East Sea and pine scents let relieve the of mind's burden. What we possess blinds us and make not to see our greed and the true 'me.' Under the COVID-19 situation, there are no options for the experience program but the rest-type program which offers the experience activities of hand-drip coffee experience and Buddhist rosary making.
Experience Program
Rest-type program:Voluntary Buddhist service, offering, chatting with Buddhist monks
Experience-type program:in-forest meditation, hand-drip coffee experience, evening bell tolling, Buddhist rosary making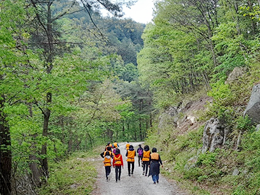 Address : 961, Jungnangseo-ro, Sacheon-myeon, Gangneung-si, Gangwon-do
Phone : +82-33-647-1234
Lodging Capacity : Eleven 4-guest rooms
Website : http://yongyeontemple.com/
Introduction
Yongyeonsa Temple is located at the foothill of Manwonsan Mountain in Sacheon-myeon, Gangneung-si, Gangwon-do. This traditional temple is a branch temple of Woljeongsa Temple, the 4th Diocese of the Jogye Order of Korean Buddhism.
The temple, founded by Master Jajang in the 7th century during the reign of Queen Seondeok of Silla (632~647), was named Yongyeonsa Temple due to the presence of a deep puddle below the temple. Currently in place are the rest-type temple stay (short and long-term), which offers rest, meditation, and tea confabulation with Buddhist monks, and the experience-type temple stay that offers yoga, bal-u(the buddist wooden bowl) meal, Gangneung Museum and tourist attraction sites tour, Yacht experience, and a rubbed copy experience.
Experience Program
Rest-type program:Offering, tea chatting, meditation
Experience-type program:Yoga, museum and attraction site tour, rubbing experience, hand-drip coffee experience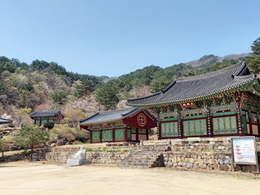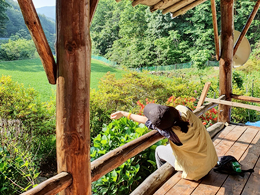 Address : 170, Ssarigol-gil, Yeongok-myeon, Gangneung-si, Gangwon-do
Phone : +82-33-661-5878
Lodging Capacity : Three 2-guest rooms, one 4-guest room, one 6-guest room
Website : http://www.hyundeoksa.or.kr
Introduction
Hyeondeoksa Temple nestles in the mid-slope of Manwolsan Mountain, a ridge of Odaesan Mountain. Monk Hyeonjong founded the temple on July 10, 1999, aspiring to become a small and good temple and a simple and good temple.
Hyeondeoksa Temple, located in a "Sacred place of coffee," Gangneung is known for its 'Sabal Coffee' (bowl coffee in English), which adds the pine scent of beautiful pine trees nearby for rich and deep taste. The temple stay program began in 2007 and offers a range of programs such as chatting with Buddhist monks and coffee scent, village road walking, 108 bows experience, collaborated working, Sogeumgang River trekking, and East Sea wave meditation.
Experience Program
Offering, Buddhist service, rosary bead making, tea chatting with Buddhist monks, hand-drip coffee experience